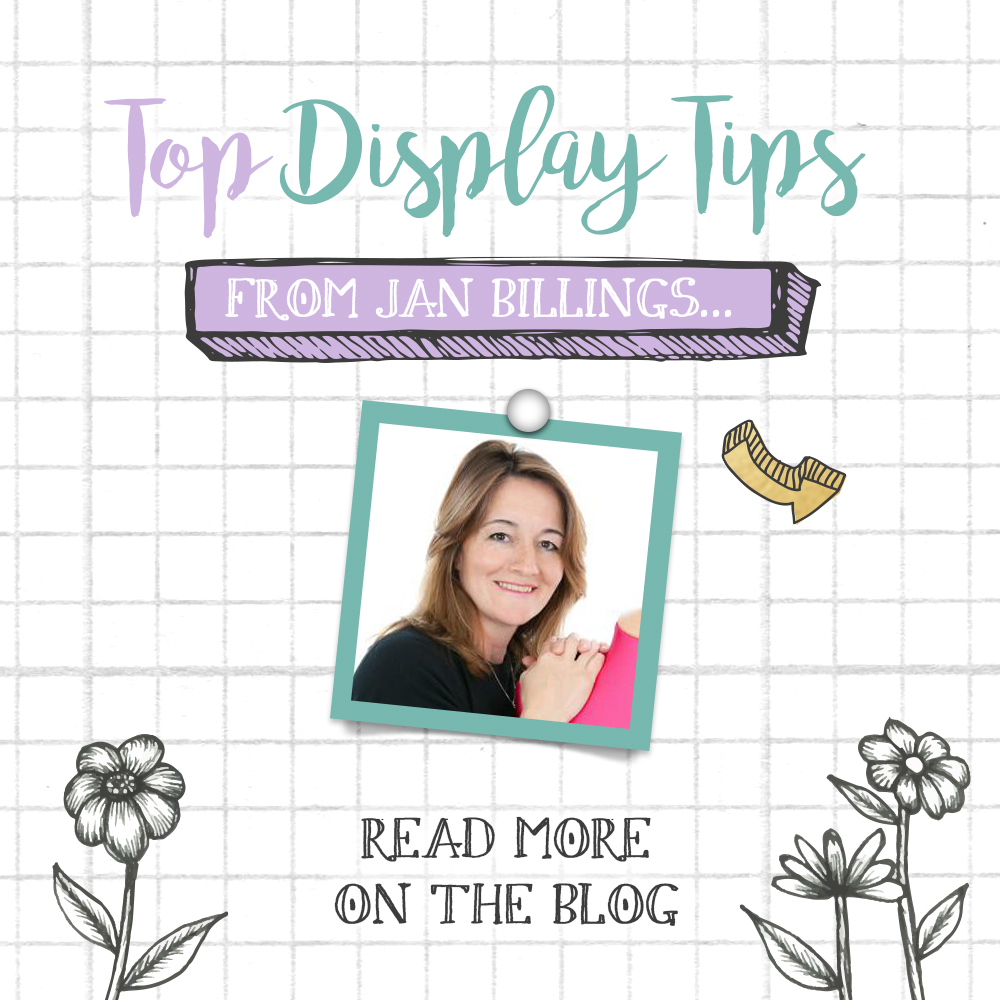 Did you attend Jan's Visual Design seminar and workshop at our Retail Festival held this summer? If you did, you no doubt went away feeling inspired and ready to create some brand new displays.
For any of you who may have missed it, here's seven simple, actionable steps from the expert to help you create amazing visual displays that will grab people's attention and turn them into customers!
IN STOCK NOW! We have a wide range of Display items to take your merchandising to the next level.
1. Plan & Prepare!
Failing to plan is planning to fail, as they say! Make your life easier by planning ahead and preparing all of the materials you will need in advance. Have you decided on a theme, colours etc.? It may help you to sketch out what you are planning for reference.
Plan your display updates ahead of time, factoring in seasons & important occasions such as Mother's Day, Valentine's day, Easter etc. Pop them in your calendar so you & your customers don't miss out!
2. Change Your Displays Often
Keep your displays fresh and engaging by rotating stock often. This will help keep people's interest.
These rustic trolleys are the perfect base for creating a versatile (and mobile!) display which can literally be carted around your retail space.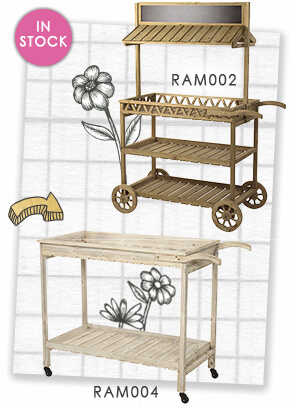 3. Risers are a Must!
What's a riser you ask? Anything that can be used as a surface to elevate a product, such as a box, a crate etc. Risers give height and variation to displays and are essential elements in the creative process, lifting from one level to several… the result is a visually appealing product presentation without much effort!
Crates & boxes make the perfect risers, especially if they come in a variety of heights like our RAM017 crates. They even have a chalkboard for some interesting typography or maybe you wish to highlight an offer?
It's amazing how you can transform some old boxes you may already have with a coat of paint, or cover them in wallpaper. They'll be so appealing in their own right that your customers will want to buy them too!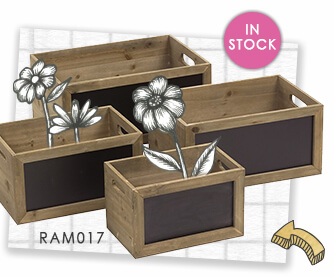 4. Pyramid, Grouping & Space
This is the core theory of setting up an engaging display, so write this one down!
Working in a pyramid shape is vital to creating an eye-catching & professional display. Start with the largest and tallest items at the back and then build up the display moving outwards and downwards.
In this case, less is definitely more… leave room around the edges for the whole display to breathe. Reserve the main sections of the display for your star products and bestsellers.
Keep it simple until you get the hang of this technique… our pyramid display units are the perfect place to start RAM020.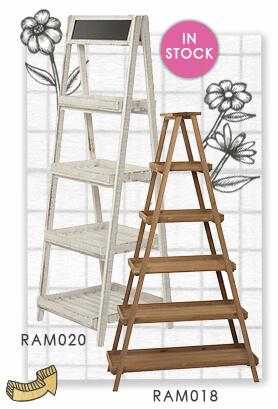 5. Add Some Height
Work on adding height to your display to attract attention & draw your customer's eye down to the main focus point no matter where the display is situated.
Our birdcage table top units will do the trick.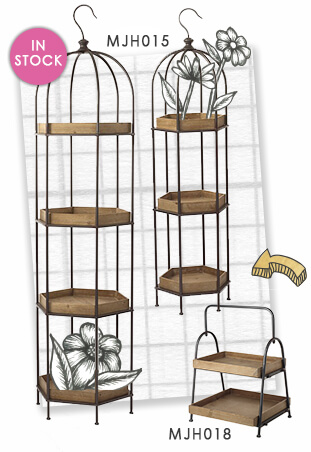 6. Finishing Touches
Put your own personal stamp on the display with the finishing touches. These are so easily forgotten but makes the difference between a standard display to a show-stopping one!
Smaller decorative items really bring the look together- the devil is the in detail! Try faux flowers for that added splash of colour to compliment your larger pieces. No watering required!
7. Regular Housekeeping
You've put all this effort into creating a beautiful display- don't let it get untidy! Tired and dusty displays will not help your sales. Follow this checklist to maintain your displays:
• Check your lighting- do any bulbs need to be replaced? Are they dusty?
• Is the display facing the traffic flow- things get picked up and turned, make sure they are put back facing where most of your foot traffic is coming from
• Has anything fallen?
• Are your windows dirty? Give them a good clean so they sparkle. Don't forget dusty window sills and dead flies…
• Has any of the product faded in the sun? Time to replace them to keep the display looking fresh.
We hope you find these tips useful! If you missed Jan's workshop this year at the Retail Festival, make sure you keep an eye out for our showroom events! We invite top industry experts to share their knowledge with our lovely customers.
Keep up to date:
Where are we next?

Don't miss any upcoming Events:
Facebook / Instagram / Twitter