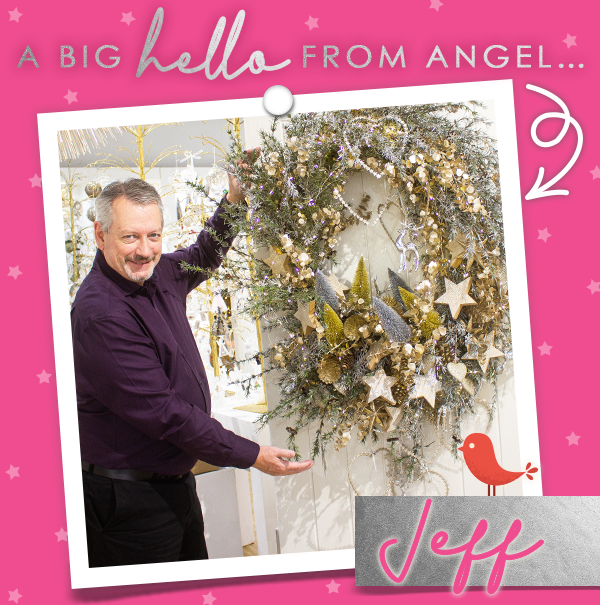 Last up in our series of 'Angel' introductions, we have our wonderful Angel Jeff...
Whilst Jeff hates being called an Angel, he is always up for some coffee, cake & a catch up with his lovely East Anglia customers, at our showrooms or out on the road. Jeff has enormous passion and excellent understanding of the gift industry - so make sure you use and abuse him for his industry knowledge! Jeff is a big music & football fan, so he always has plenty to chat about! Just don't ask him about when he had to wear pink wellies...
Jeff couldn't decide which was his favourite Christmas theme this year. He was torn between Glitz & Glamour and Alpine, so we decided to put it to the public vote on social media recently and we had over 50 votes with Glitz and Glamour being the overall winner! Did you cast your vote?...
This is what Jeff had to say about one of his favourite collections for 2022 - Glitz and Glamour, all presented on our huge display wreaths and he said:
"Everyone loves a bit of Glitz & Glamour at Christmas! If you are planning to feature silver and/or gold in your retail displays, we're sure to have lines for you. To give your displays the "glam" factor, mix opulent gold details with hints of silver and go heavy on the sparkle! We've got an abundance of glimmering tree toppers, T-Light holders, and our polyresin mice in silver and gold (YIN011A), have been "best-sellers" for us for many years!"