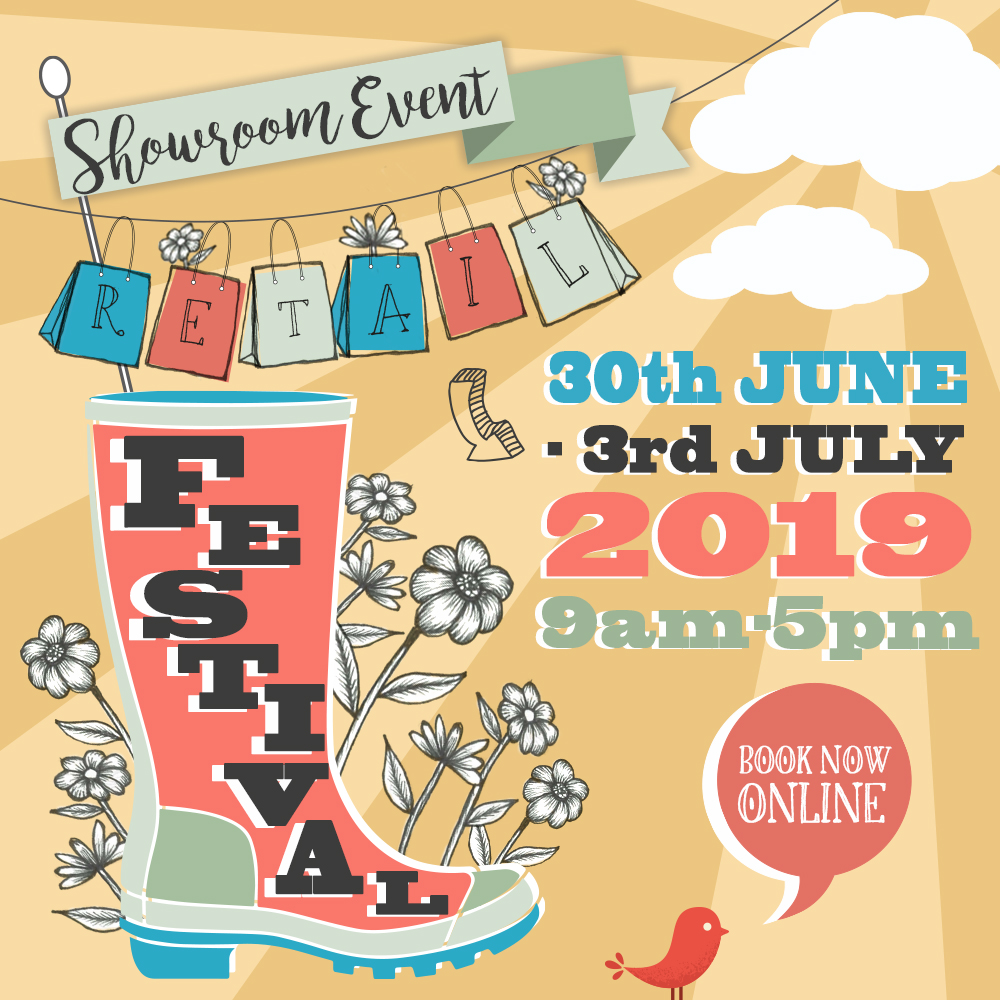 You're invited to our inspiring Showroom for a Festival full of buying, inspiration & bags of retail insight!
What better way to celebrate the summer than with a festival? We'll be donning our bright pink wellies and getting into the festival spirit at the end of June to deliver a Retail Festival to remember!
If you join in on the fun and wear your own wellies, we'll treat you to 10% off your order* placed on the day- which includes EXCLUSIVE peek at our Spring/Summer 2020 collection!
What's on?
Expect an impressive line-up of Speakers on the Main Stage:
Interactive Workshop – Retail Display & Merchandising
With Janet Billings – Visual Stylist
Workshop Dates: Sunday 30th June – Wednesday 3rd July
The fantastic Visual Merchandiser Janet Billings is back by popular demand to deliver a hands on interactive workshop. Learn expert tips and practise your merchandising skills to help boost your sales- you will go home feeling very inspired & with a notepad full of tips!
Limited spaces are available to keep the sessions personalised to suit you and your business- book your place today! Don't miss your chance to learn how to create inspirational, sales-boosting displays from an industry expert.
Expert Talk – Banish the Brexit Blues: Making the most of the Brexit Opportunity
With Henri Davis – Independent Retail Consultant
Speaking Dates: Sunday 30th June at 2pm and Monday 1st July at 10am.
"Don't let Brexit get you down, let's be BOLD, BRAVE, BRIGHT and BRILLIANT and make the most of the opportunities that Brexit gives us."
With 35 years in the retail & buying industry under her belt, Henri will help you rise to the Brexit challenge! Not to be missed- book your Festival ticket today!
Expert Talk – Growing with Social Media
With Louise Welsby – Digital Marketing Consultant
Speaking Dates: Tuesday 2nd July at 10am and Wednesday 3rd July at 10am.
Social media is a great way to reach your gift buying audience but without huge budgets and all the expertise, it can be a challenge managing in house and growing your audience so that you can make a real difference.
This is where Louise steps in, with extensive experience in Digital Marketing, Social Media Marketing and PR, Louise has lead teams in film, television and radio before she decided to set up her own marketing agency BUY-FROM with her father in 2015.
A champion of small, micro and independent businesses- Louise will leave you feeling empowered to take your social media marketing to the next level!
Don't miss out- grab your Festival ticket now!
What else can I expect?
As a Festival guest, you will get an EXCLUSIVE peak ay our Spring/Summer 2020 collection before anyone else! What's more, you can see our ENTIRE collection under one roof in our inspiring Showroom. Curious? You can take a virtual tour here.
That's not all, the Retail Festival will feature competitions, great food & more festival fun!
How to find us:
Our fabulous showroom is only 20 mins away from the NEC Birmingham. You can find full details on how to find us, local accommodation and to get in touch here.
We hope to see you there!
The Angels xx
*T&Cs: The Retail Festival offer of 10% off applies only to Everyday orders placed by Showroom Event guests on the day of attendance. Guests must wear their wellies in order for the offer to be valid.