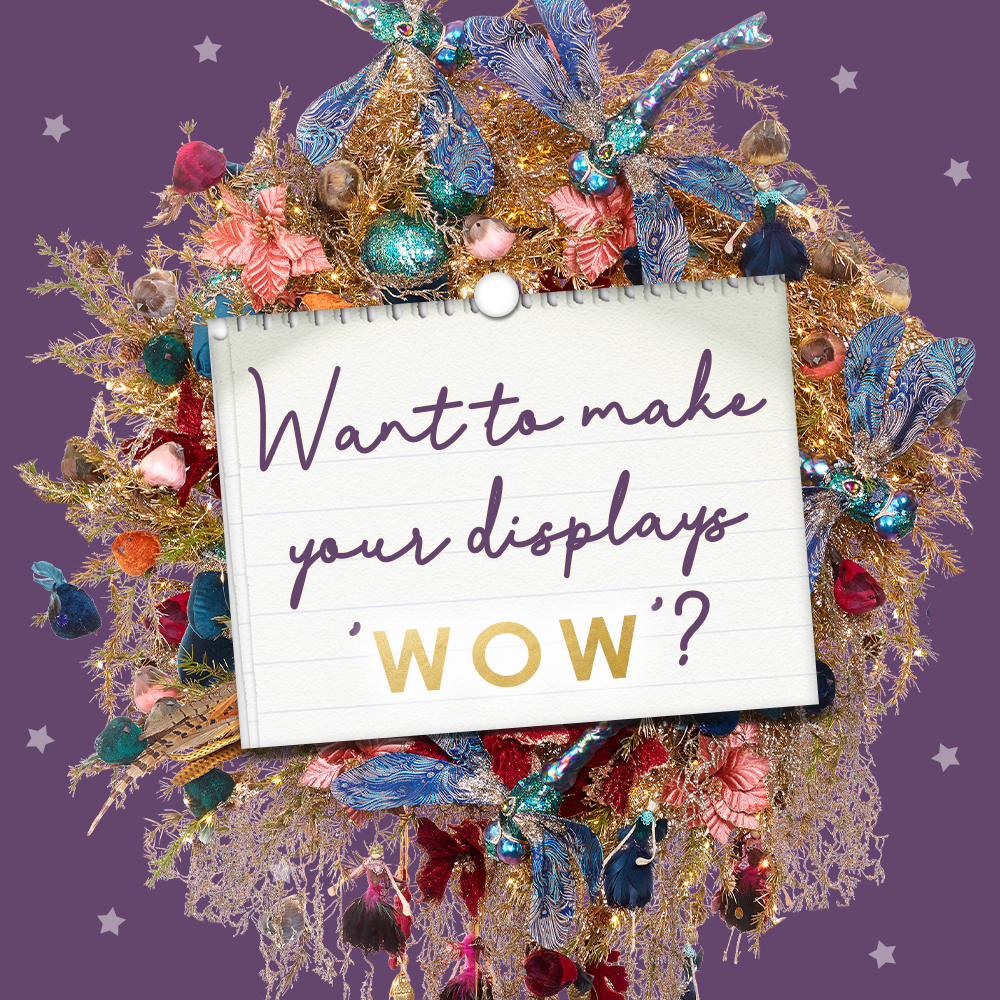 Create your own Opulence wreath
Create your very own show-stopping wreath display. Our Opulence collection is the perfect 'maximalist' approach to Christmas... with rich, deep colours, luxurious fabrics and bejewelled statement pieces.
1. Spray your wreath gold back and front, working the spray into wreath fronds.
2. Apply light fixing from a point at the top, weaving the longer lengths down to the bottom. Leave any ends of unused lights dangling to work in later.
3. Fix the pheasant (or key product) using strong wire attached at its legs. Force the feet to stand on the rear main part of the wreath.
4. Apply twig brand decorations to entire wreath, allowing them to naturally fall at the bottom of the wreath into a point.
5. Add the next largest item, dragonflies, on key points on the wreath but avoid placing them in a symmetrical fashion. Use florist wire to attach.
6. Add remaining chosen products, work around the key products using existing strings attached to the product to tie to the wreath fronds or use florist wire. Don't allow the smaller products to distract from the main items. This is an opulent theme so you can really have fun adding to the wreath making it look full and indulgent.
7. Hang up your wreath and enjoy!
GET PREPARED FOR CHRISTMAS- VISIT OUR SHOWROOM:
With Christmas approaching, the Showroom is the perfect place to start if you are looking to get inspired. You'll find our ENTIRE Christmas range under one roof, with plenty of merchandising and display inspiration throughout. Our Angels are on hand to offer practical tips and advice to help you get the most out of the festive season!
Contact your Rep to book a visit directly, visit the Showroom page or call our helpful team of Angels on +44(0)121 351 7457.
We hope to see you soon.