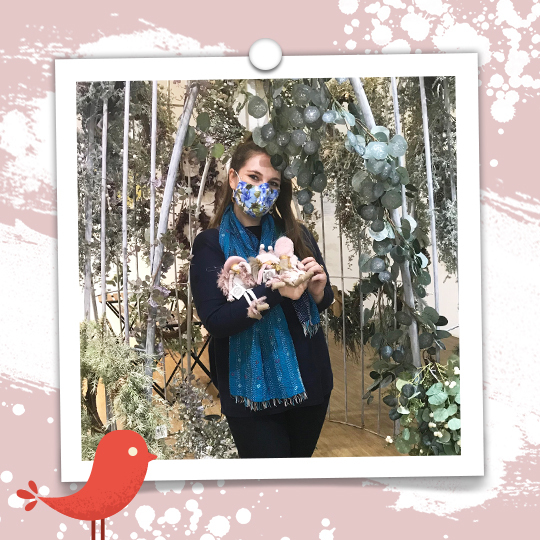 Freya & Trisha recently joined us at the Showroom for the first time, for the exciting task of selecting stock for their new Christmas Pop-up Shop!
@Obsidian Art Gallery
@Freya Jones Art & Craft
HOW WAS YOUR VISIT?
We were made to feel really welcome and were looked after by our lovely Angel Jeff, who helped us make really considered product choices. We were able to enjoy a private tour around the stunning Showroom- much more pleasant than visiting Spring Fair! "
DID YOU FEEL SAFE DURING YOUR VISIT?
We had the Showroom to ourselves, social distancing and Covid safety procedures were practised during our stay.
We were delighted to be able to have sandwiches for lunch and plenty of tea and coffee to keep us topped up! We felt very valued, thank you to the team for such an enjoyable first visit to your showroom.
A big thank you to Freya & Trisha for visiting us! x
GET PREPARED FOR CHRISTMAS- BOOK YOUR VISIT NOW!
With Christmas approaching, the Showroom is the perfect place to start if you are looking to get inspired. You'll find our ENTIRE Christmas range under one roof, with plenty of merchandising and display inspiration throughout. Our Angels are on hand to offer practical tips and advice to help you get the most out of the festive season!
If you are interested in visiting our fabulous Showroom to see what all the fuss is about, please get in touch, we look forward to seeing you!
Contact your Rep to book a visit directly. Or call our helpful team of Angels on +44(0)121 351 7457
Please note that as of the 24th September we are asking our visitors and team members to wear a face covering/mask during showroom visits in line with Government guidelines. You can read our full Covid safety procedures and latest updates here.
We hope to see you soon x