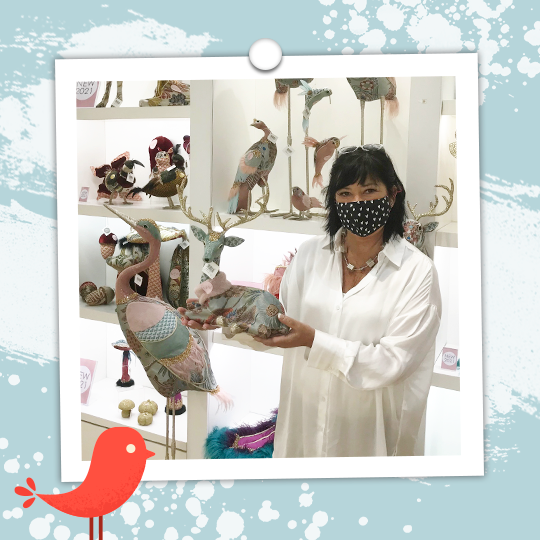 Gonks Galore at the Showroom
Michele Elliott from House of Elliott (Gift, Clothing and Jewellery shop) in Hemel Hempstead visited the Heaven Sends showroom this week.
When did you visit the Showroom?
Michele said: "I visit the Heaven Sends showroom every April. But the showroom always looks different each time I visit; and there are so many new and different Christmas items this year.
The ranges are always so beautifully presented and I find visiting the showroom very inspirational, in terms of getting ideas for displays and my Christmas window.
The Christmas range really does cater for anyone's tastes, as there is so much variety. And very good price-points!
What was your favourite part of your visit?
The range of Gonks this year is second to none!
Jeff gave me some great advice on window display items, so I left having placed my Christmas order and having planned my in-store and Christmas window displays. So now I needn't worry about Christmas, I can get on and concentrate on my shop, having just re-opened after lockdown.
It took me hours making the right choices, but Jeff provided us with a lovely lunch and cake! What more can you ask?"
A big thank you to Michele for paying us a visit.
You can find out more about The House of Elliott below.
Web: http://thehouseofelliott.net/
Facebook: https://www.facebook.com/houseofelliottgifts
Book your Showroom Visit
If you are interested in visiting our fabulous showroom to see what all the fuss is about, please get in touch, we look forward to seeing you!
Contact your Rep to book a visit directly.
https://www.heavensends.com/showroom
Or call our helpful team of Angels on +44(0)121 351 7457