Bringing the Beach to Brum for our NEW SHOWROOM LAUNCH!
Here at Heaven Sends we're known for a lot of things… quirky giftware, great customer service, value for money - but we're also known for our madcap ideas as well. So when it came to choosing how to launch the NEW showroom, we had no choice but to "bring the beach to Brum" - quite literally!
As we don't do things by halves, the car park was filled with sand, seagulls were imported, ice cream was served, a pier was constructed and even a coconut shy was built. Unfortunately the tide was out so the only thing missing was the sea!
Everyone loves a good British seaside resort, and it was great to see so many happy customers enjoying the beach, taking photos of themselves at the peep-through and of course basking in the sunshine sitting in the giant deckchair!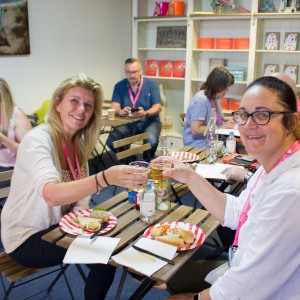 Guests were the first to see just how amazing the NEW showroom is and were able to view the entire collection (Christmas, Home, Gift & Halloween) – over 6000 products in one place. Customers are now able visit the new showroom space at any time to browse or buy.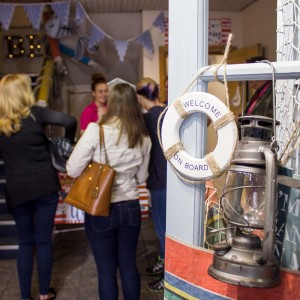 Industry speakers were also invited to the event, sharing their knowledge with guests in information-packed seminars. Jan Billings from Show Off demonstrated how to create beautiful visual retail displays and Sam Bailey from Silver Compass Digital explained the best way to use social media and email marketing, focusing on small businesses.
After spending the day having fun, being inspired by the seminars and browsing the NEW Showroom, guests went home with a bucket full of new ideas and a few souvenir goodies & photos…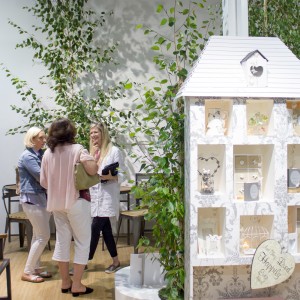 "Just to thank you for such a wonderful 'trade' day yesterday. Dee and myself thoroughly enjoyed ourselves. Not only was it lovely to browse the stock to order, but the staff were so friendly and helpful - true 'angels' in every way. The day was well planned and today we are already making changes to the shop's display to reflect the advice at yesterday's workshops. Thank you again"- Liz and Dee from Finishing Touches.
For those that attended the event, thank you so much for sharing your time with us. You made the event a massive success. We couldn't have done it without you. Don't forget to check out our Facebook page for your beach fun photo. We'll be announcing the lucky winner of the most amusing photo on Monday 17th July! Or you can view our gallery of snaps here. Can you spot yourself?
If you couldn't join us at the beach, at least you didn't get sand in your shoes like the rest of us! But we'd still love to see you at the NEW Showroom, so just book your visit here.
Our next fun filled stop is Autumn Fair (3-6 Sept), so we hope to see you there! You could always combine your visit with a look round the showroom, only 20 mins away…
HS 
x